Experience the best breakfast in Hot Springs, AR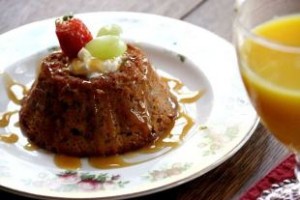 Wake each morning to the smell of freshly ground coffee and your gourmet breakfast being prepared.  Your coffee or hot tea will be waiting for you in the dining room at 7:45 am.  Take a 1890 Williams House Inn coffee mug, fill with your comforting beverage and enjoy the veranda.  The sounds of the city waking up, reading the local newspaper or reading a good book will start your day off in the relaxing way of the Inn.  Our dining room is designed to give you the option for early morning conversation or a more private dining experience.  View our Virtual Tour to see it in detail.
What to expect from the best breakfast in Hot Springs, AR
Your palate will taste one of our breakfast bread creations such as poppy seed bread, tropical fruit kringle or delectable pecan muffins.  As we say, we love serving dessert first!  Fresh fruit parfait, with a variety of seasonal fruit, will refresh you and compliment your hot meal.
The menu changes each day and we serve  a full breakfast such as Stuffed French Toast, thick sliced bacon and warm maple syrup or how about a Breakfast Panini and homemade seasoned sausage.  Top the Panini off with salsa and sour cream.
Monday – Friday seating for breakfast is 8:30 am – 9:00 am
Saturday – Sunday seating for breakfast is 8:30 am – 9:30 am
If you need to leave before breakfast is served, just let the Innkeeper know the evening before and we will have a breakfast to go outside your door.  Juice, homemade bread and fresh fruit will get you on the road until you have time to stop and enjoy a hot breakfast.
Recipes from the best breakfast in Hot Springs, AR
Here is one of our favorite recipes that was given to me by my best friend from grade school – Sharon Hain.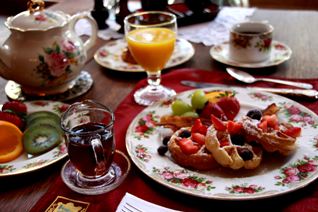 Strawberry Chocolate Chip Bread
1 pkg vanilla pudding
1 pkg strawberry cake mix with pudding
1/2 cup chocolate chips
4 eggs
1 cup oil
1 cup cooking sherry or wine
strawberry jam
soft cream cheese
Mix the first six ingredients into a mixer and beat on high for 8 minutes.  Pour into greased bread pans, muffin tins or we use individual bundt pans.  Bake at 350 degrees until lightly brown and toothpick comes out clean.  Cool on racks.  Mix cream cheese and jam.  Pipe into center of bundt muffin, or top regular muffin, and decorate with fruit.  We also drizzle a tad of caramel sauce over the top.