Experience our unforgettable Hot Springs, Arkansas bed and breakfast
The 1890 Williams House Inn celebrates a long history of hospitality, and we look forward to sharing our joyous home with you. Dr. A.U. Williams, a prominent physician and businessman built this exquisite Arkansas estate, where four generations of his family lived. In fact, 1890 Williams House Inn was the first bed and breakfast in the state of Arkansas, established in 1980. The home continues to welcome travelers today; we invite you to come into our parlor for refreshments and good conversation, sharing in the history and hospitality.
Our Hot Springs, Arkansas bed and breakfast is the historic district's jewel, showcasing beautiful woodwork and architectural detail. The Main House has 6,500 sq. feet of elegance & charm with six extra large guest rooms and the Carriage House has 2,000 sq ft and three extra large guest rooms. Accommodations include TV/VCR/DVD with cable, two-person jetted tubs, coffee pot, microwave, small fridge, stereo CD player and WiFi in the common areas. Complimentary local water, and cookies complete your stay. Come in, relax, and let your worries slip away.
An ideal location for your Hot Springs, Arkansas bed and breakfast experience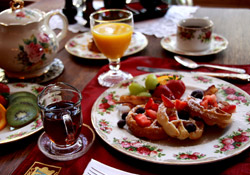 The central location of 1890 Williams House is convenient lodging to many Hot Springs attractions and only five blocks from the Historic Downtown shopping area and world famous Bathhouse Row. You will also find many fine restaurants and galleries in this historic district. One mile away is elegant Oaklawn, the premier Arkansas thoroughbred horse racing facility. Surrounding areas are beautiful lakes for boating and fishing. Hot Springs has many relaxing spas, breathtaking mountains in our national park for hiking, and an entire city offering everything you could ask for. Staying in or going out, the 1890 Williams House Inn is your perfect choice for Arkansas accommodations.
Availability and Rates at your touch – click on the tab in the upper right hand corner of the screen.
Phone reservations:  9:30 am – 8:30 pm daily.  Check-in: 1:00 – 5:00 pm. Ask us about an earlier check in or a self check in after 5:00.
Come relax in comfortable elegance at our premier Hot Springs, Arkansas bed and breakfast.