Experience the best Hot Springs AR Breakfast
Wake each morning to the smell of freshly ground coffee and your gourmet Hot Springs AR Breakfast being prepared. Your coffee or hot tea will be waiting for you in the dining room at 7:45 am. Take a coffee onto the veranda to enjoy the sounds of the city waking up or to read a book or the local newspaper. Our dining room is designed to give you the option for early morning conversation or a more private dining experience. Most guests take breakfast in the dining room except those staying in the Parlor Suite, Williams Suite and Turret Suite, where breakfasts are served ensuite at your private table for two. In the dining room guests are welcome to eat together at larger tables, or enjoy the privacy of their own table. Breakfasts are gourmet quality and simply outstanding, be sure to try one of our muffin creations! You are also invited to complimentary coffee, hot chocolate, tea, spring water and the cookie jar.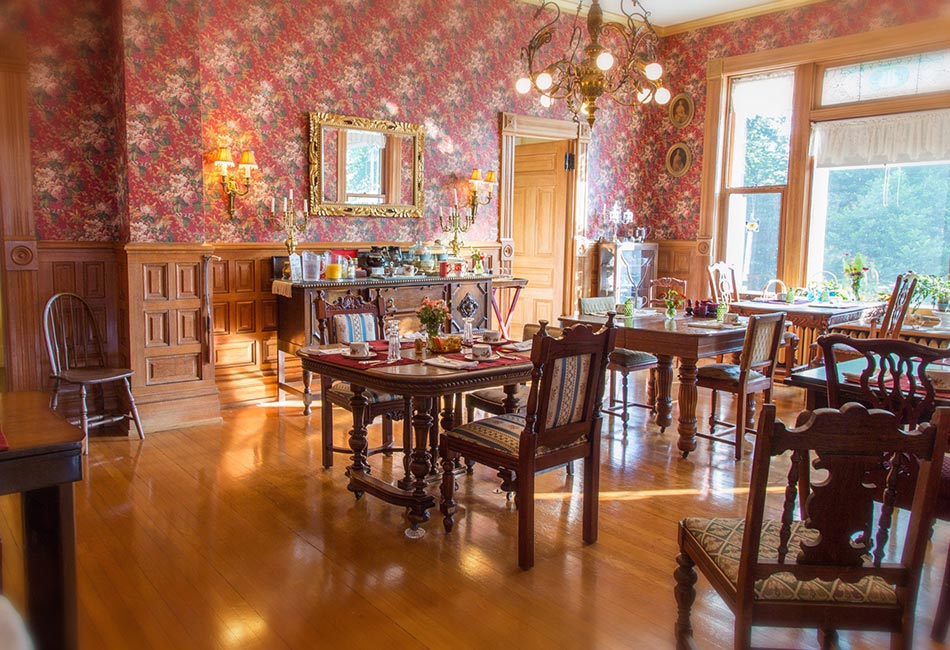 Your palate will taste one of our breakfast bread creations such as poppy seed bread, tropical fruit kringle or delectable pecan muffins. As we say, we love serving dessert first! Fresh fruit parfait, with a variety of seasonal fruit, will refresh you and compliment your hot meal. The menu changes each day. Specialties include stuffed french toast with thick sliced bacon and warm maple syrup, breakfast panini with homemade seasoned sausage, savory quiches and more.
Monday – Friday seating for breakfast is 8:30 am – 9:00 am
Saturday – Sunday seating for breakfast is 8:30 am – 9:30 am
If you need to leave before breakfast is served, just let the Innkeeper know the evening before and we will have a Hot Springs AR breakfast to go outside your door. Juice, homemade bread and fresh fruit will get you on the road until you have time to stop and enjoy a hot breakfast.
What our guests are saying:
"I can't imagine that you would find another B&B that you could love more than this!! The breakfasts by Joe each morning alone would make you never chose another place to stay – spinach and sausage quiche one day and stuffed French toast the next, not to mention all being served in the elegant dining room. The rooms were absolutely spotless and beautiful with all the charm that you would expect of a historic home – you feel transported back in time! We loved that you could walk to several restaurants and also to the main strip if you wanted to work off that huge breakfast. I have to mention the goodie area with soft drinks, snacks, hot chocolate and homemade lemon/blueberry pound cake daily. Do yourself a favor and book this right now (I'm already looking at dates for my next trip to Hot Springs)."