Hot Springs Arkansas lakes and waterways are plentiful and beautiful! Four of these lakes: Catherine, De Gray, Hamilton and Ouachita are near the Hot Springs area. They are perfect for water sports and all are within 20 miles of the 1890 Williams House Inn.
DeGray Lake is situated in the Ouachita Mountains and the DeGray Lake Resort State Park includes more than 31.000 acres. DeGray is a water sports paradise, and fishing, swimming, sailing, diving and house boating abound. DeGray is well-known fir its large-mouth and hybrid bass. The park features picnic sites, hiking trails, 15 boat launches a golf course nearby and 14,000 acres are open for seasonal hunting.
Lake Catherine is a 2,180-acre state park in the Ouachita Mountains. The lake is well known for it's fishing and is a popular spot with anglers. The park features waterfalls, hiking trails and picnic areas, a marina, boat launch and swimming area. The lake is nestled in the narrow valleys of the Ouachita Mountains, just minutes south of Hot Springs.
Lake Hamilton sits on the south and western edge of Hot Springs, Arkansas and is one of the state's most popular lakes for recreation… and residence! Most of the 7,200-acre shoreline is ringed with homes; condos, resorts, motels and restaurants, and popular activities on the lake include skiing, para-sailing, boating and fishing. There are many places to launch boats on the lake.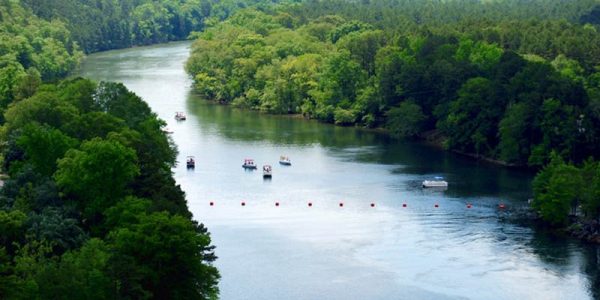 West of Hot Springs lies Lake Ouachita, a 40,100-acre lake that is well known for its beauty and clear water. The Ouachita National forest surrounds the lake and nearly 970 miles of the shoreline are wild and undeveloped. Its length (40 miles) makes it a favorite destination of sailors as well as recreational boaters and skiers, and its clarity attracts many divers. Other recreational opportunities include swimming, horseback riding, hiking, and fishing opportunities on the lake, which is nationally known for its large-mouth and hybrid striped bass. The lake's more than 100 uninhabited islands are open and ideal for picnicking and day tripping. The area features 21 recreation areas with 150 picnic sites, 24 boat ramps and 13 swimming beaches.
1890 Williams House Inn makes the perfect base camp while exploring beautiful Hot Springs, Arkansas. We look forward to your visit!