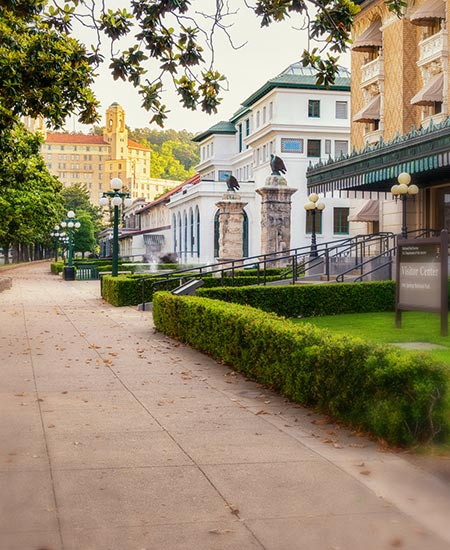 It's the water that has attracted thousands of people to Hot Springs, Arkansas. People have been using the hot springs here for more than 200 years, bathing in the mineral-rich water to treat illness and relieve stress.
The first bathhouses were crude structures of canvas and lumber, little more than tents perched over individual springs or reservoirs carved out of the rock. Later businessmen built wooden structures, but they frequently burned, collapsed because of shoddy construction, or rotted due to continued exposure to water and steam. Hot Springs Creek, which ran right through the middle of all this activity, drained its own watershed and collected the runoff of the springs. Generally it was an eyesore-dangerous at times of high water, and mere collections of stagnant pools at dry times. In 1884 the federal government put the creek into a channel, roofed over it over, and laid a road down above it. Much of it runs under Central Avenue and Bathhouse Row today. This allowed room for sidewalks and landscaping in front of the bathhouses, creating the Bathhouse Row you see today.
There is much to do in Hot Springs National Park. Tour the historic Fordyce Bathhouse, where the Park Visitor Center is now located. Cruise down the grand promenade of Bathhouse Row within National Historic Landmark District. Take a hike on over 26 miles of trails, pack a picnic, and take a bath, of course!
The Grand Promenade of Bathhouse Row is a peek into the past. One can imagine settlers discovering the springs and building up the historical grounds to accommodate the flocks of health-seekers looking for an elixir in the bubbly waters. It is a great place for a picnic lunch.
There are lots of other lunch spots in the park. Most of the picnic areas at Gulpha Gorge, Hot Springs and West Mountain have tables and grills.
Explore the restored Fordyce Bathhouse, which was the grandest bathhouse of its time. There are guided tours or explore the impressive building on your own. Move on to Buckstaff Baths, actively relieving stress and strain since 1912. Take a traditional bath the way folks have for over 50 years or have a more modern spa experience with co-ed pools at Quapaw Baths.
The park service offers a variety of guided tours, one of which is the Discover the Waters Tour. During this tour you will hear the amazing story of how rainwater becomes hot spring water. Please call ahead (501)620-6715. For more information on Hot Springs National Park, visit their website.
1890 Williams House Inn makes the perfect destination base camp while visiting Hot Springs National Park.