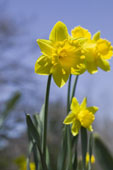 Daffodil Days at Garvan Woodland Gardens – Hot Springs, AR
February 21 – March 20, 2013
More than 200,000 brilliant gold, yellow, and orange daffodils brighten the trails during this peak time for the spring-flowering bulbs.
Interesting Facts about Garvan Woodland Gardens
Over 1,700 tons of weathered landscape boulders were placed, or 3,400,000 pounds. The largest boulders were ten to eleven tons, or about 8 feet long by 3 feet tall by 5 feet wide.
Approximately 1,000 tons, or two million pounds, of native veneer stone were used. This is enough stone to build a three foot retaining wall over a half mile long.
Over 600 cubic yards of concrete were poured. This is enough to construct an obelisk 20 stories tall and nine feet by nine feet (or about half the size of the Washington Monument), yet none is visible in the finished garden.
Enough material delivery trips on the Gardens' skid loaders were made to haul a backhoe load of gravel from Los Angeles to New York.
The Gardens Contain:
Waterfalls and cascades pump 675 gallons of water per minute from Lake Hamilton, or about 350 million gallons a year; enough water to fill a lake of over 400 acres that is twenty feet deep every year.
Nearly three miles of recreational trails, including a new 3/8 mile walk across dramatic hillsides and ravines in the Garden of the Pine Wind.
The largest remaining undeveloped tract of land on Lake Hamilton, the Mid-South's most popular recreational Lake.
Enough ornamental trees to plant about ¾ mile of the Champs Elyseé in Paris or an avenue over two miles long with a tree every twenty feet.
Over 2,000 azaleas of 160 varieties, or enough to completely cover over an acre spaced five feet on center.
128 species of ornamental native shrubs and wildflowers.
Over 300 varieties of flowering perennials and groundcovers.
65 different varieties of Asian maple. Most are Japanese maples, the most popular ornamental tree in the United States.
One of North America's only known mature, blooming specimen of the Emmenopterys henrii, a rare tree from Burma and southern China.
Other Facts of Interest
The Garden property is the only botanical garden in the U.S that occupies all of a peninsula in a major water body. At over one and a quarter miles long, the property is composed of dramatic hillsides that include vertical grade changes of over 100 feet provide spectacular views to Lake Hamilton.
The garden is home to over 100 species of native birds, including the pileated woodpecker, great blue heron, wild turkey, and great horned owl. The property is an over wintering site for the bald eagle.
Several native animals inhabit the gardens, including gray and red squirrels, raccoons, opossums, coyotes, armadillos, red foxes, and a resident herd of white-tailed deer.
Come enjoy the beautiful gardens and stay with us at 1890 Williams House Inn, a Hot Springs Arkansas bed and breakfast located just blocks from Historic Downtown Hot Springs Arkansas.  Be dazzled by the daffodils and then relax in the two person jetted tub and enjoy a full breakfast.  Come relax and enjoy.  The Inn is located just twenty minutes from Garvan Woodland Gardens.

<!–
–>